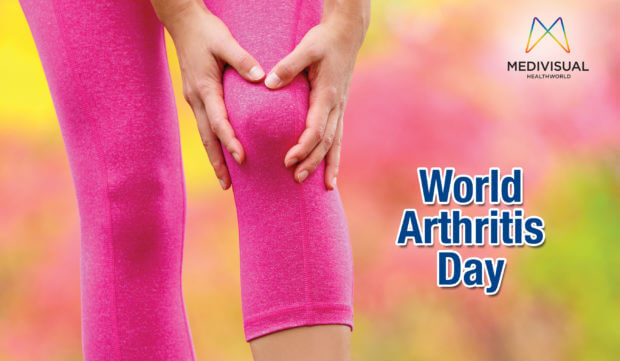 October 13, 2016
World Arthritis Day
World Arthritis Day
It is in your own hands to take care of yourself.
The word 'Arthritis' is derived from the Greek word "Arthro" meaning joint and "itis" meaning inflammation. Arthritis is a painful and degenerative condition marked by inflammation in the joints that causes stiffness and pain. Osteoarthritis, the most common type of arthritis, gets worse with age and is caused by wear and tear of joints over the years.

For conditions such as Rheumatoid Arthritis and Osteoarthritis, there is no cure, though there are often treatments that can be done. Largely these are basic health controls, including exercise, which increases flexibility and losing weight. Weight can make a big impact on the amount of pain you experience from arthritis. Extra weight puts more pressure on your joints, especially your knees, hips, and feet.
Use of hot and cold therapy, simple hot and cold treatments can make a world of difference when it comes to arthritis pain. Long, warm showers or baths, especially in the morning, helps ease stiffness in your joints. Use an electric blanket or heating pad at night to keep your joints loose and use moist heating pads. Cold treatments are best for relieving joint pain. Wrap a gel ice pack or a bag of frozen vegetables in a towel and apply it to painful joints for quick relief.
World Arthritis Day is celebrated on 12th October, every year. The first official World Autoimmune Arthritis Day was held on May 20, 2012.
Throughout the world millions of people are suffering from arthritis On this World Arthritis Day let us join together to lend help to those suffering from arthritis and spread awareness across the globe.
Archives