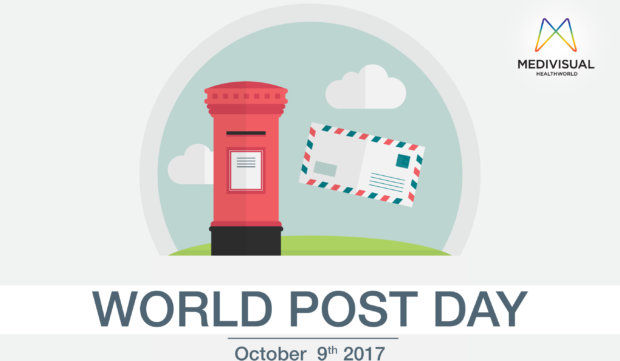 October 9, 2017
Reaching Everyone…Everywhere -World Post Day
The Universal Postal Union(UPU) was established in the year 1874 in Bern, Switzerland and its anniversary is celebrated on 9th of October every year. The anniversary of the Universal Postal Union was declared as the World Post Day by the Universal Postal Union Congress in Tokyo, Japan in the year 1969.
World Post Day was created back in 1969 by the Universal Postal Union as a way to create awareness of the Postal Service, its people, and the impact it has on the lives of citizens around the globe.
It brings awareness to the Post's role in daily lives of people and businesses, as well as its contribution to global, social and economic development.
As a result, the UPU's member countries are encouraged to organize their own national activities to celebrate the event, including everything from the introduction or promotion of new postal products and services, to the organization of open days at post offices, mail centers and postal museums.
Every year, more than 150 countries celebrate World Post Day in a variety of ways, including introducing new postal technologies and products. In an internet dominated high-tech communications age, we often forget that the world postal network is the largest physical transportation network in the world, with 438 billion letters and 6 billion parcels handled each year and thereby it has its own importance in our lives.
Facts on Indian Postal System:
The Indian Post Office Act 1898 passed by the legislature on March 22, 1898. It became active on July 1, 1898.

The world's first official airmail flight took place in India on February 18, 1911.

By 1861, there were over 850 post offices in India which were handling nearly 43 million letters and over 4.5 million newspapers annually.

In April 1959, the Indian Postal Department adopted the motto 'Service before Self'.

The first adhesive postage stamps in Asia were issued in Scinde in July 1852.

India was the first country in Commonwealth to issue airmails stamps.

The first new stamp was issued in the Independent India on November 21, 1947. The new stamp depicted the Indian Flag with patriots slogan 'Jai Hind'.

On the first anniversary of the Indian Independence, a memorial to Mahatma Gandhi was issued in 1948.

One year later, the stamp depicted India's broad cultural heritage Including Hindu, Buddhist, Muslim, Sikh and Jain temples, sculptures, monuments and fortresses.

Countries which have had stamps printed in India include Burma, Nepal, Bangladesh, Bhutan, Portugal and Ethiopia.
Archives