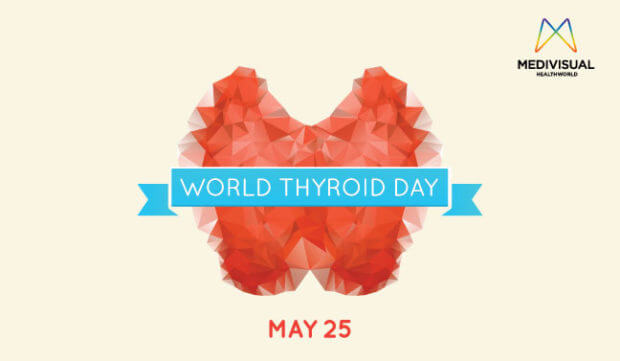 May 25, 2017
Let's Stand Together on World Thyroid Day- 2017
Thyroid gland, often referred to as simply the thyroid, is one of the largest endocrine glands. This butterfly-shaped gland is located in the neck. Hormones produced by the thyroid gland influence critical body functions and regulate metabolism, therefore thyroid health is extremely important. Approximately 750 million people worldwide are affected by thyroid disorders.
World Thyroid Day was established in 2008 during the congress of the European Thyroid Association (ETA). The ETA in collaboration with the American Thyroid Association (ATA), the Asia & Oceania Thyroid Association and the Latin American Thyroid Society celebrates World Thyroid Day (WTD) every year on May 25th. The goal of WTD is to substantially promote awareness about thyroid diseases. It focuses on:
Increase awareness of thyroid health

Promote understanding of advances made in treating thyroid disease

Emphasize the prevalence of thyroid diseases

Focus on the urgent need for education and prevention programs

Expand awareness of new treatment modalities
This day essentially belongs to thyroid patients, pregnant women, those children exposed to inadequate iodine intake and to all who suffer from thyroid ailments and deserve a better standard of care. WTD is a Day of both action and the call to action for the benefit of thyroid patients everywhere.
Archives