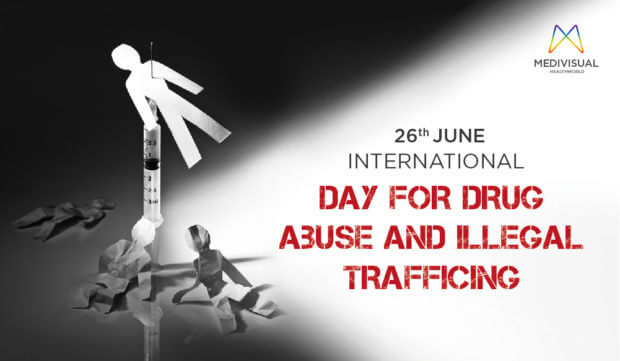 June 24, 2016
International Day Against Drug Abuse and Illicit Trafficking
International day against drug abuse and illicit trafficking takes place on 26 June, annually. This day was created by United Nations General Assembly to help to create society free of illegal drugs and drug abuse. This day gives awareness of two important world issues "World Drug Day" and "Blue Heart Campaign against Human Trafficking".
According to the UN Office of Drug and Crime (UNODC), nearly 200 million people are using illicit drugs such as cocaine, cannabis, hallucinogens, opiates and sedative hypnotics worldwide.
In view of the growing menace and the deterioration of the quality of life the General Assembly at the United Nations, in December 1987 designated 26th June to be celebrated with effect as the International Day against Drug Abuse and Illicit Trafficking.
It is a worldwide despair because it is directly or indirectly related to crime, corruption and international terrorism. This day helps us to focus on this social problem. Essay writing services customessayorder.com online. Pro custom writings.
About 190 million people all over the world consume one or the other drug.
According to UN report around, one million heroin addicts are registered in India and unofficially there are as assignment writing service many as 5 million. Cannabis, heroin, and Indian-produced pharmaceutical drugs are the most frequently abused drugs in India.
Schools, families, relatives, religious organizations and civil societies can help to get rid of drug abuse. Media can help in giving awareness about dangers of Narcotics. Schools and colleges can aware youth by conducting special programs providing awareness on drug abuse.
The Ministry of Social Justice & Empowerment, as the focal point for drug demand reduction programs in the country, has been implementing the Scheme for Prohibition and Drug Abuse Prevention since the year 1985-86. Under this Scheme, the Ministry is assisting around 390 voluntary organizations for maintaining more than 400 Integrated Rehabilitation Centre for Addicts (IRCAs) spread all over the country.
Average annual allocation for this program has been to the tune of Rs. 40 Crore.
Different NGOs in India are working against drug abuse and illicit trafficking e.g. FINGODAP.
The UN Office on Drugs and Crime (UNODC) has, over the years, been actively involved in essay writing launching campaigns to mobilize support for drug control.
Let's unite together to write my essay curb this issue.
Post Details
Category
Tags
Date
June 24, 2016
Author
Archives