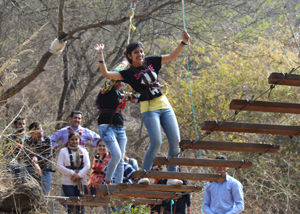 February 19, 2016
Experience Happiness- Team Building @ Forest Hill Resort
We at Medivisual always believe, Happiness…like the wind; can only be felt. Happiness is intangible. You never possess it. You dont own it. You simply feel it and experience it.
We believe our team is our strength. Investing quality time with each other within the team has always encouraged a healthy work atmosphere. The memories of our last jaunt (just two weeks ago) are still afresh. The cheer and glee on all the faces, the joy we all experienced in those 9 hours of fun filled eventful day is simply beyond imagination. The day demanded fun and we were all up for it! No morning meetings, no deadlines to meet, no work pressure…sheer fun and frolic were the tasks for the day.
A healthy breakfast at the venue was a kick start. And then there was no stopping. Trekking, riding, walking on the ropes, crawling between barbed wires, encouraging and bucking up each other all the way… We inadvertently met the other side of each other. We met the kid that still resides amongst all of us.
A cricket game at the end of the day was like the icing on the cake. We were all beyond the limits of winning or losing. We were there to collect memories. We were playing to 'experience happiness'.
And we can all as a team claim that we really did experience happiness!
Archives