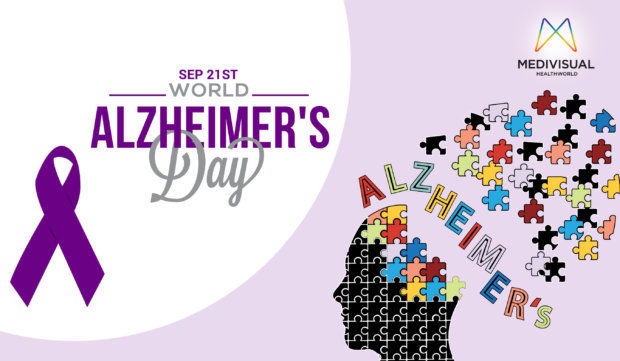 September 21, 2017
Don't Forget World Alzheimer's Day
Alzheimer is the most common form of dementia. This disease causes problems with memory, thinking ability and behaviour. It usually starts slowly and gets worse with time which impairs mental functioning.
World Alzheimer's Day, is recognized on September 21st of each year to raise the awareness about Alzheimer and Dementia. While World's Alzheimer's Month offers a longer period of time for Alzheimer associations worldwide to reach of their awareness programmes over a longer period of time.
World Alzheimer Day was launched at the opening of ADI's annual conference in Edinburg on 21st September 1994.
September 2017, will mark the 6th global World Alzheimer's Day, and will utilize the theme of "Remember Me" to highlight the importance of early detection and diagnosis of dementia.
2 out of 3 people globally believe that there is little or no understanding of dementia in their countries.
The impact of World Alzheimer's Day is growing, but the stigmatization and misinformation that surrounds dementia remains a global problem, that requires a global action.
World Alzheimer Day unites opinion leaders, people with dementia, there care takers and family members, medical professionals, researchers, leaders and media persons from all around the world to raise awareness.
Having a globally coordinated month and day sends a strong message to governments and policy makers alerting them of the fact that dementia is a serious health issue which will have serious implications on services and health systems around the world as the world's population grows older.
In addition, by focusing on a different message each year, this day can be used to educate and challenge people's misconceptions about Alzheimer.
It provides an opportunity for Alzheimer associations around the world to gain recognition and credibility for the work they do, placing themselves in a stronger position to influence opinion leaders and governments.
Facts About Alzheimer's Disease:
1. Alzheimer's Disease is a progressive brain disease.
2. Alzheimer's Disease mostly effects elderly people. Since the population of elderly people is rising in India, this is the cause of alarm.
3. The exact cause of Alzheimer's Disease is still not known. Certain complex events occurring in the brain appear to cause this problem.
4. There is no cure for Alzheimer's Disease. Early detection benefits the patient in treating this disease affectively.
5. The treatment modalities include medicinal, psychological and care giving aspects.
Archives