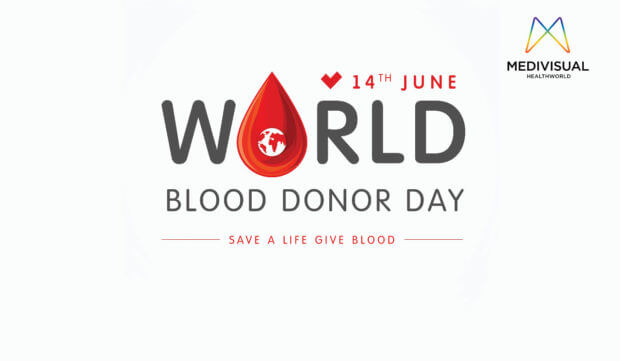 June 14, 2017
Donate Blood…Donate Now…Donate Often
Every year on 14 June, countries around the world celebrate World Blood Donor Day (WBDD). The event, established in 2004, by the World Health Organization (WHO) to raise awareness of the need for safe blood and blood products, and to thank blood donors for their voluntary, life-saving gifts of blood.
Just like every year, today also the world will celebrate the world blood donor day with the same zeal and zest. The theme for world blood donor day 2017 is "Give blood. Give now. Give often" which means that don't wait until the disaster strikes just donate blood now and donate often.
Did you know?
More than 38000 blood donations are required every day.

One out of 10 patients admitted in hospital needs blood.

350 ml of blood can save as many as 3 lives.

Every 2 seconds someone in India needs blood.

One out of every three of us will need blood in our life time.

Even with all of today's technology there is no substitute for blood.

Blood cannot be manufactured, it can only come from volunteer donor.
So someone has to give blood in order for someone to receive blood. So on this world blood donor day take a pledge that you will become that someone who will give blood to someone. Doctors recommend that a healthy person can donate after every 3 months means there should be a gap of three months between 2 donations. So remove your myths about blood donation and enjoy the benefits of blood donation from this world blood donor day onwards.
Common myths about blood donation:
Being a vegetarian, means that the blood does not have enough iron and cannot be donated.

Giving blood hurts.

HIV or other infections can be contracted from donating blood.

There is limited blood in the body and it is unhealthy to give some away.

Health deteriorates after donating blood.
Health benefits of blood donation:
Reduces the risk of hemochromatosis: Hemochromatosis is a health condition that arises due to excess absorption of

 

iron

 

by the body.

 

Help in

 

lowering risk

 

of cancer: By donating blood the iron stores in the body are maintained at healthy levels. A reduction in the iron level in the body is linked with low cancer risk.

Helps in losing weight: Regular blood donation reduces the

 

weight

 

of the donors.

Helps in formation of new blood cells.

Helps in maintaining heart and liver healthy.
Your little courage can save many lives. DONATE BLOOD DONATE LIFE. Pledge to become a healthy volunteer today.
Archives